Sharon Thompson Completes Ramblin' Rose Sprint Triathlon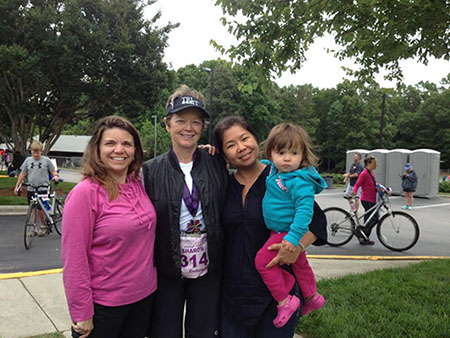 Sharon Thompson participated in the Ramblin' Rose Sprint Triathlon on Sunday May 19th, 2014, finishing second in her age class. This year's triathlon, which took place in Raleigh, benefited the YMCA's We Build People Campaign and Tri It For Life.
Ramblin' Rose Women's Triathlons, produced by Endurance Magazine, are designed to "Celebrate the Empowerment of Women." This year's race started bright and early at 8 a.m. and included a 225 yard swim, 9 mile bike, and 2 mile run.
Reflecting on the experience, Sharon says "it was an amazing adventure for me in pushing myself physically while feeling supported by so many women. It is not so much an athletic event as an opportunity to set a goal and accomplish it with other women. I also couldn't have done it without the awesome support of Tri It For Life, a group of women who mentor others for 12 weeks and provide training, a renewed sense of spirit and empowering women to believe in themselves."
Read more about the event HERE.
Call: (919) 883-4900