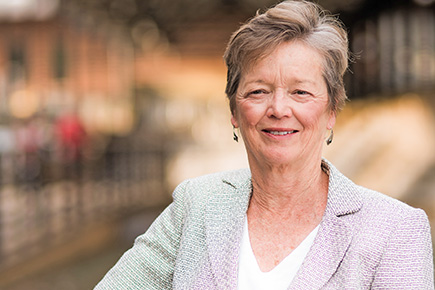 Practicing law for over 40 years has provided me with the opportunity to help individual clients and also impact and expand laws protecting the rights of women, children and the LGBT community.  As an attorney, I've been able to combine work I enjoy and share my skills while furthering my commitment to social justice issues.  It doesn't get much better than that!
~Sharon Thompson


LGBT, Surrogacy & A.R.T. Attorney


Sharon Thompson

In 2012, Sharon Thompson became Of Counsel to NicholsonPham. She has been in private practice since 1976 and brings a wealth of knowledge and experience in the areas of family law, including all aspects of adoption and family formation through assisted reproduction and surrogacy; estate planning, including wills, trusts, powers of attorney and probate administration; and LGBT legal issues. In 2010, Sharon became the first female attorney in North Carolina to be accepted as a Fellow of the American Academy of Adoption Attorneys.

A significant portion of Sharon's practice has been devoted to providing advice and services to LGBT clients, partners and their families. She is widely recognized in this state as an authority on legal issues affecting gay and lesbian clients. She has been counsel in many groundbreaking cases including:

Sharon is one of a very small number of attorneys in North Carolina offering services to assist LGBT individuals who want to protect their partners and families through family formation documents and legal proceedings, property agreements, and estate planning.

Sharon has also expanded her expertise of the legal issues surrounding parenthood by working with clients using assisted reproduction technology to create their families through the use of agreements regarding egg and sperm donation, embryo donation and surrogacy. In 2010, Sharon became the first attorney in North Carolina to be accepted as a Fellow of the American Academy of Assisted Reproductive Technology Attorneys.

Sharon has also served as Adjunct Professor at both the University of North Carolina School of Law and the North Carolina Central University of Law and she has authored numerous publications and is often called upon to speak at legal seminars, law school, and community events.

The work ethic, skills, and commitment to excellence that Sharon represents has repeatedly been recognized by those in her community. In 2007, she received the ACLU's Frank Porter Graham Award and was inducted into the General Practice Hall of Fame by the NC Bar Association. She also received the North Carolina Association of Women Attorney's Women of Wisdom Award in 2006, the Triangle Business and Professional Guild's Professional of the Year Award in 2000, the North Carolina AFL-CIO Legislative Award in 1992, Planned Parenthood's Margaret Sanger Award in 1990, and what is now known as the Gwyneth B. Davis Award from the North Carolina Association of Women Attorneys in 1987.

Never one to shy away from hard work, Sharon has also served the people of North Carolina in a multitude of ways. A former two-term legislator in the North Carolina House of Representatives (1987-1990), Sharon was known as an effective leader and problem solver and was the highest ranked female and the 16th Most Effective Representative during her second term. In 1978, Sharon was one of four co-founders of the NC Association of Women Attorneys, a statewide organization with over 500 members today. In 1994, she was one of the co-founders, and the first President, of the NC Association of Gay and Lesbian Attorneys.

Her clients know her as a serious, committed, and knowledgeable advocate. Sharon is fearless in the representation of her clients regardless of the relative popularity of their legal needs. She is an outspoken advocate for women and families, and gay and lesbian individuals and their families.
We are pleased to announce that Sharon Thompson has been named to the 2018 Best…
Sharon ... through the years